Krestovsky Stadium, St Petersburg,
Russia
At a cost of €600m and with a decade-long wait for it to be completed, the Krestovsky Stadium in Russia's eastern-most city of St Petersburg is a sight to behold. The enormous plateaued bowl with a ballooning retractable roof juts out into the Gulf of Finland as a foreboding and impressive structure.
The development of the Krestovsky Stadium began in 2007 but it was only 10 years later that the ground officially opened. By that point, Russia was just a year away from hosting a World Cup and developers swiftly added 12,000 more seats to bring its capacity to 68,000. The stadium is famed for its steep terraces and spiked roof that offers a dazzling backdrop to some of the world's most iconic sporting events.
The Krestovsky Stadium has only been in full operation for four years yet has already staged the Confederations Cup and the World Cup, while the Champions League final will be played in St Petersburg for the first time in history in 2022. Russian Premier League side Zenit play their domestic and European games at the Krestovsky Stadium, while the Russian national team occasionally uses the stadium for its home internationals.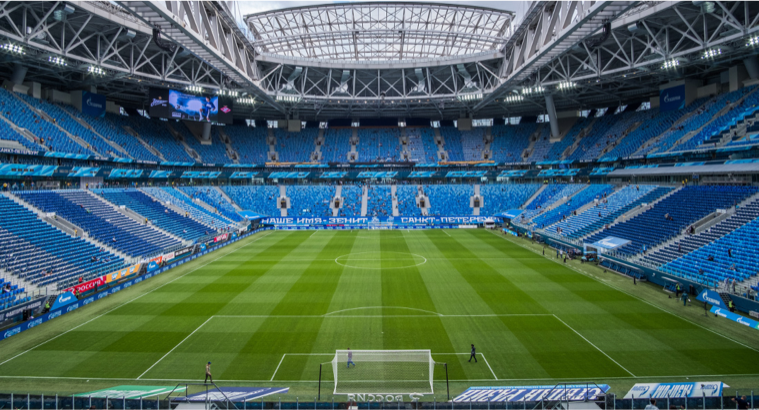 Russia were initially down to stage four Euros fixtures this summer but the exclusion of Ireland's stadium in Dublin due to coronavirus means three more matches have been added to the Krestovsky Stadium calendar. The ground will now stage three games apiece from Groups B and E. Russia will play two of their Group B games in St Petersburg, starting with a clash against Belgium on 12 June. Meanwhile, Slovakia, Poland and Sweden will all play each other in Group E at the venue.
The Krestovsky Stadium will also stage a quarter-final clash on 2 July. That could see France or Germany rock up at the four-star ground, or perhaps even England.
Having confirmed to UEFA that they would be able to host as many as 40,000 spectators inside the enormous bowl, the Russian tournament organisers were granted the opportunity to stage Group E fixtures alongside their previous allocation. Finland have already confirmed their HQ for the tournament will be in Repino – the base England used for the World Cup three years ago – while other nations are expected to follow suit in the weeks leading up to the Euros.