Johan Cruijff ArenA, Amsterdam,
Netherlands
The Johan Cruyff ArenA will stage four games at the Euros this summer and plays host to an international football tournament for the first time since 2000. The stadium in the south of Amsterdam is the home of Dutch club side Ajax and the Netherlands national team.
The ground, which cuts an imposing figure in the Amsterdam skyline, was built in 1996 after a decade of planning. It was originally designed to house a running track and was the centre of the Amsterdam 1992 Olympics bid, which lost out to Barcelona. With Ajax needing a different ground by the early 1990s, the city built the dazzling new stadium anyway and in 1996 officially opened its doors at a cost of €140m.
The Johan Cruyff ArenA is famed for its retractable roof that coverts the 55,500-seater sports ground into a 71,000-capacity concert venue. Tina Turner, Michael Jackson, the Rolling Stones and David Bowie played gigs at the stadium in its early years.
In 2000 Netherlands hosted the Euros along with Belgium and the Amsterdam ArenA – as it was known then – staged three group games, a quarter-final and a semi-final. That last match saw Netherlands lose to Italy on penalties in front of 50,000 devastated Oranje fans. Other major games the ground has hosted is the 1998 Champions League final between Madrid and Juve, and the 2013 Europa League final, where Chelsea beat Benfica.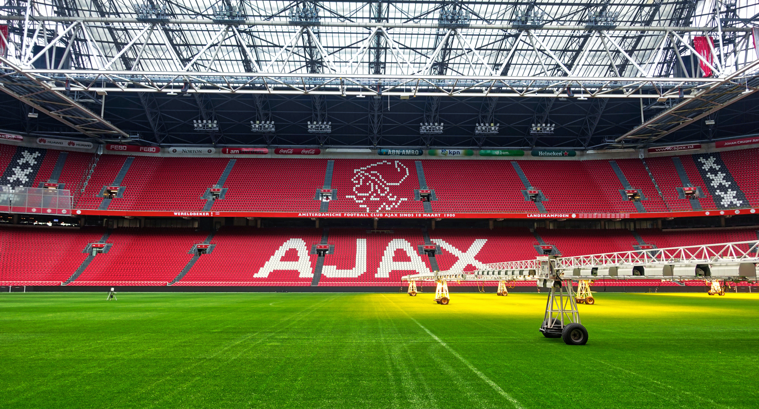 The Johan Cruyff ArenA was renamed after Ajax and Netherlands' greatest ever footballer, Johan Cruyff, who died in 2016. The ground will stage three Group C games at the Euros this summer – all involving Netherlands. It will then play host to a round-of-16 clash between the runners-up of Group A and Group B, which could be Wales and Denmark.
The first game between Netherlands and Ukraine kicks off on 13 June. The Dutch have not lost to Ukraine in either of their previous two meetings (W1, D1) and expectations are high on the national team topping Group C. Because Holland are playing all three of their group games at home the team will base itself in the country for the duration of the Euros. However, their camp won't be in Amsterdam but instead in the town of Zeist to the south of the capital.
UEFA hope at least 12,000 spectators will be able to watch games live from the Johan Cruyff ArenA terraces. The reduced capacity due to Covid-19 restrictions may be increased as the tournament progresses but officials have stuck with a conservative allocation of seats for now.