SPAIN

One of the
all-time greats in International football.
Will they dominate again since
winning all three major international trophies

13 years ago?
More info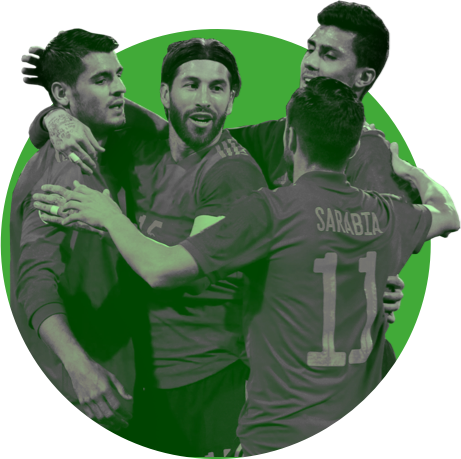 It's 13 years since Spain rose to the top of European football and began a reign of dominance that saw them win three major international trophies on the spin. Since then, the Spanish national team has changed dramatically and, while they may not be the threat they once were, Spain remain a team everyone wants to avoid at the Euros this summer.
Spain's two European trophy wins in 2008 and 2012 added to their first triumph in this competition back in 1964. Historically the team has a strong European record, having also reached the 1984 final before losing 2-0 to France. But they also have a tendency to bomb in this tournament. In 2004 they didn't escape the group stage and last time out, in 2016, they crashed out at the round-of-16.
Qualifying for this summer's Euros was largely straightforward. Spain went unbeaten in Group F and won eight of their 10 games. They topped a group where Sweden was the only real challenger and conceded just five goals throughout the campaign. Sergio Ramos, Rodrigo and Alvaro Morata all top scored for Spain with four goals apiece in qualifying – and the trio are all expected to feature at the Euros this summer.
Head coach Luis Enrique is yet to guide his country into a major tournament. His style is more elastic than the tiki-taka patience of the previous generation but nevertheless still champions control over everything else. Spain are less fancied to win the Euros this summer than previous tournaments largely because they don't have the forward arsenal past generations we're accustomed to. While their midfield is stacked with talent, up front there is a dearth of experience that could cost them in the latter stages of the competition.
Enrique favours a 4-3-3 system with Sergio Busquets anchoring the midfield and the likes of Pedri and Koke surging forward. Alvaro Morata remains the choice up front – although Rodrigo is also an option – while in defence Ramos, Eric Garcia and Diego Llorente are competing for the centre-back spots.
While they aren't favourites to win the Euro, Spain are certainly tipped to top Group E. They kick off the tournament in Seville against Sweden on 14 June, before routine clashes with Poland and Slovakia. All their group games are being staged in Seville but we're likely to still see the Spain away kit at some point!
Spain should top this group and progress to a last-16 clash against a third-placed side, which could be Wales, Russia or perhaps Scotland. Their route to the final could see them encounter England – the pre-tournament favourites – in what would be a mouthwatering quarter-final showdown in Rome.
Starting XI?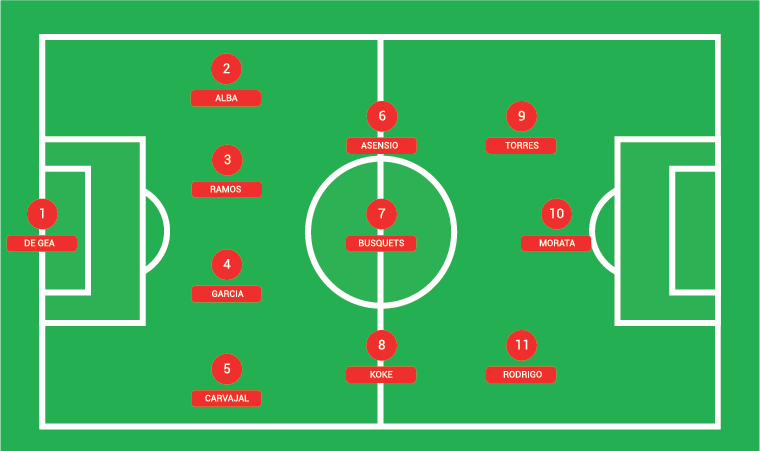 Manchester United

Athletic Bilbao

Brighton & Hove Albion

Barcelona

Manchester City

Villarreal

Leeds United

Manchester City

Valencia

Chelsea

Barcelona

Atlético Madrid

Liverpool

Barcelona

Atlético Madrid

Napoli

Manchester City

Juventus

Paris Saint-Germain

Wolverhampton Wanderers

Manchester City

Villarreal

RB Leipzig

Real Sociedad