Allianz Arena, Munich,
Germany
Few football stadiums in the world are as iconic as Allianz Arena in Munich, the 70,000-seat mega dome that balloons out of the ground and into the Munich skyline. The Arena is one of a set of ultra-modern stadiums across Europe that regularly house Champions League football and plenty more entertainment besides.
Built almost two decades ago, the Allianz Arena officially opened in 2005 after three years of construction at a cost of €340m. It sits in the north-eastern most corner of Munich, next to the city's ring-road, in a largely unforgotten patch of land. Nicknamed the "dinghy" for its inflatable-like exterior structure, the Allianz Arena is famed for being able to change colour to reflect the teams playing within.
The Allianz Arena was built in time to stage the World Cup 15 years ago. Germany hosted the tournament and played their opening game against Costa Rica – a 4-2 victory – in front of a sell-out crowd. The Allianz Arena Munich hosted six games that summer, including the semi-final between Portugal and France. It also played host to the 2012 Champions League final, where Chelsea stunned hometown side Munich on penalties to win the trophy.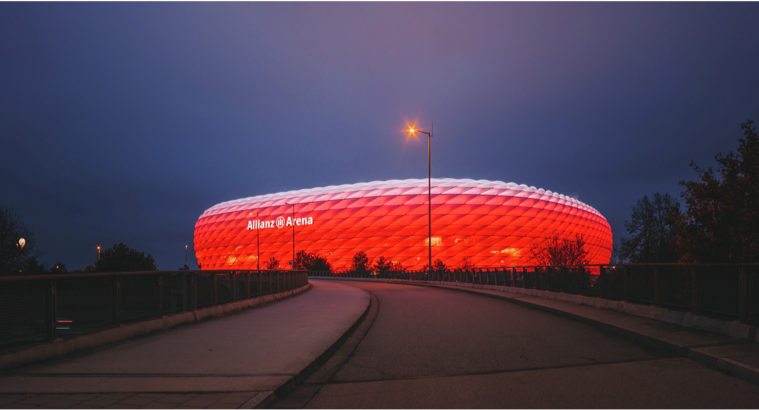 Bundesliga giants Munich are based in the stadium, which has changed somewhat since 1860 Munich departed in 2017. The grey seats were changed for red and white, while a Munich logo is now imprinted on the stand behind one of the goals.
This summer the Allianz Arena will host all three Germany Euro fixtures, as well as a quarter-final. Germany kick off their tournament against France in Group F on 16 June, and three days later welcome Portugal to Munich. Group F is considered the 'Group of Death' but should Germany scrape at least one win from their opening two games, they will expect to bypass Hungary in their third fixture and progress to the last-16.
It is unlikely that Germany will return to the Allianz Arena after the group stage. However, we could witness a quarter-final between Italy and Belgium inside the famous stadium. German organisers have assured UEFA that they will be able to welcome a minimum 14,500 fans to games this summer – roughly 21% full capacity. There is hope, however, that reduced coronavirus infection rates in Germany come June will mean more seats are made available for supporters.