Olympic Stadium, Baku,
Azerbaijan
The Euros take place across three time zones this summer and by far the most easterly venue in the competition is Baku's Olympic Stadium. The 69,800-seater ground sits on the outskirts of the Azerbaijani capital and is officially the 19th biggest stadium in Europe.
Azerbaijan secured hosting rights for the pan-European 2020 tournament even though their national team failed to qualify this summer. The Olympic Stadium was constructed in four years and officially opened in 2015 in time for the European Games, an athletics event that required a running track around the football pitch that has remained to this day.
The stadium features a dazzling light-orientated edifice that can change colour depending on the event taking place inside. It makes for a spectacular setting for opening ceremonies and concerts. Of course, VIP access is the norm at modern stadia and the Olympic Stadium contains 127 corporate suites, can change into a concert venue and houses a training facility next door.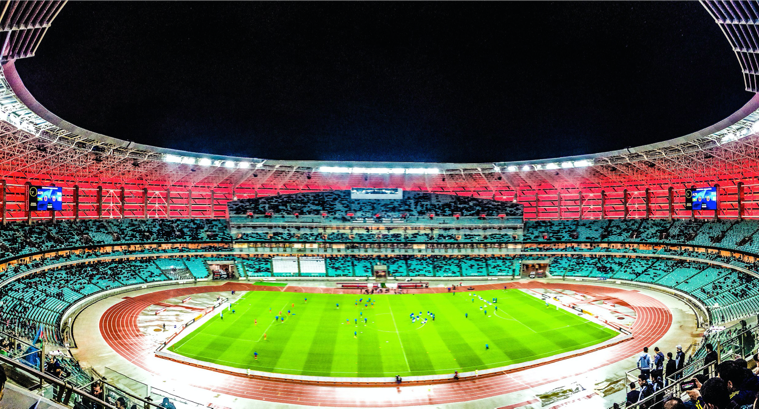 Domestic side Qarabag sometimes play their Champions League and Europa League games at the venue, depending on the opposition and appetite for tickets from fans. Indeed, the likes of Roma, Chelsea and Atl Madrid have all played games here. In 2019 it hosted the Europa League final, where Chelsea beat Arsenal 4-1 in front of 51,000 spectators. Because of the time difference and the need to broadcast the game to the rest of Europe, the game kicked off at 11pm local time.
This summer the Olympic Stadium will stage three Euros Group A games plus a quarter-final. Wales, Turkey and Switzerland will all play two games in Azerbaijan, with each team facing fellow Group A side Italy in Rome. Because of the distances required to travel to Baku, both Wales and Turkey have decided to set up their Euros bases in the Azerbaijani capital. Switzerland's HQ will be in Rome.
Wales v Switzerland kicks off on 12 June and is the first game at the Olympic Stadium. The quarter-final will be played on 3 July and could feature the runner-up of Group A, and therefore a potential return flight out east for three teams. Local authorities have confirmed the Olympic Stadium will host a minimum 50% capacity crowd for all four of their group games, meaning at least 34,000 supporters should be in attendance per match this summer.