Hampden Park, Glasgow,
Scotland
Hampden Park is the oldest football stadium being used at the Euros this summer – and is by far one of the most atmospheric. This iconic ground located to the south of the city centre has stood proudly against the grey Glasgow skyline for 117 years. Of course, there have been plenty of renovations made to the ground since those early days, but Hampden Park has never lost any of its charm.
Queen Park was the first domestic club to play in the Hampden Park area in the 1870s. By the turn of the century a stadium had been erected and games were being played in front of more than 100,000 spectators. The ground hosted the 1960 European Cup final between Madrid and Frankfurt (Madrid cruised to a 7-3 victory) and the 2002 Champions League final, where Madrid won again – this time beating Leverkusen 2-1. In 2014 the stadium was refurbished ahead of the Commonwealth Games, which saw the improvement of the running track around the perimeter of the pitch. The track remains to this day.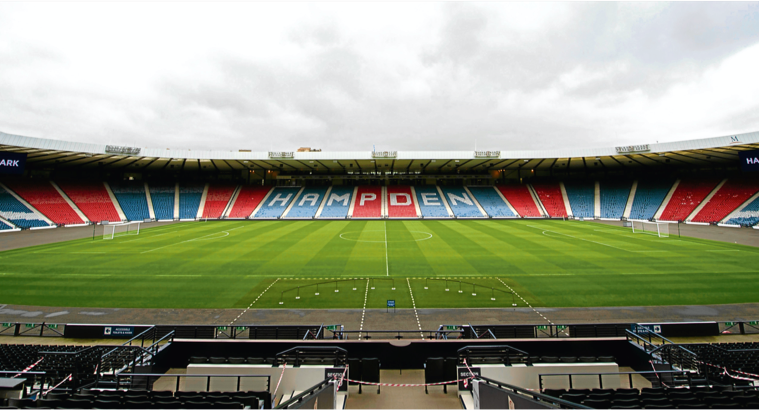 Yet despite the running track Hampden Park is famed for its raucous atmosphere. Scottish Cup finals are an unmissable event every year, with fans spilling out into the heart of Glasgow once the referee blows his whistle for full time. The ground is also a famed music venue, with the likes of the Rolling Stones, Rod Stewart, Oasis, Coldplay, Pink and Beyoncé having taken to the stage.
Hampden Park will stage three group games at the Euros, including two of Scotland's Group D matches. Scotland open their campaign by hosting Czech Republic on 14 June, while four days later Hampden Park welcomes the Czechs back for their tie with Croatia. Scotland then play Croatia on 22 June and will hope to have already secured safe progress to the last-16 by that stage.
The fourth game scheduled to be played at Hampden Park will be a last-16 clash between the winner of Group E – likely to be Spain – against a third-placed team from group A, B, C or D. That could mean Scotland remain in Glasgow for the first knockout stage, or perhaps England will have to travel north of the border.