Arena Nationala, Bucharest,
Romania
Romania failed to qualify for the Euros after falling short in the playoffs, but Romanian fans will have four games to enjoy at the national stadium nevertheless this summer. The Arena Nationala is an enormous bowl that sits in the east of Romania's capital city and will stage three Group C ties, plus a round-of-16 clash.
The stadium was built in 2011 as a replacement for the crumbling Stadionul National, which had outlived its usage after more than 50 years showcasing live sporting and entertainment events on the pitch penned inside a running track. The new ground actually saw the capacity reduced to 55,000 seats but was built to modern standards and earned the much sought-after four-star UEFA rating.
The Arena Nationala is famed for its hostile atmosphere with steep terraces looming over the pitch. It has a retractable roof and is the home of Romanian club sides Dinamo Bucharest and FCSB, as well as the national team. At €234m the stadium didn't come cheap, but it has become a national concert venue and hosted the 2012 Europa League final, where Atl Madrid beat Bilbao 3-0.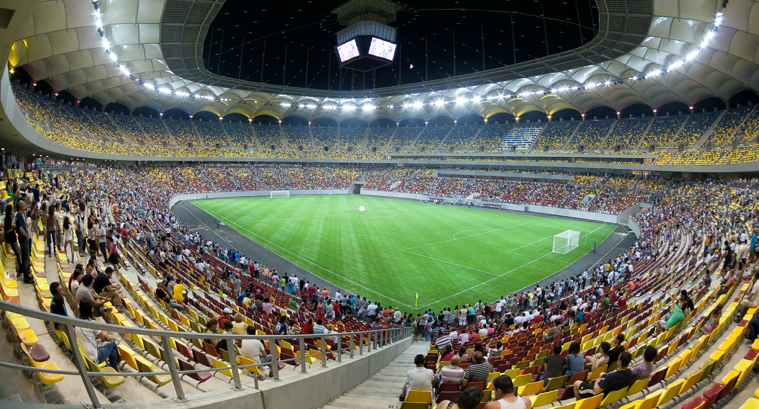 The inaugural game played at the Arena Nationala was a somewhat dour 0-0 draw between Romania and France in Euro qualifying back in 2012. It wouldn't be until 12 months later that Romania finally won in their new home stadium, beating Andorra 4-0.
This summer Austria, Ukraine and North Macedonia will all play two of their Group C games at the Arena Nationala. The group is paired with the Amsterdam ArenA, where fellow Group C side Netherlands will play all three of their games. The first match between Austria and North Macedonia kicks off on 13 June, with the expectation that a crowd of between 25% and 33% capacity will be able to attend.
Tournament organisers in Bucharest assured UEFA in the spring that they will be able to safely welcome at least 14,000 spectators into each game the Arena Nationala hosts. There is hope that this figure can be greatly increased – Covid permitting – and an even greater portion of the stadium will be open to fans come the fourth game staged there: a last-16 tie. This clash will see the winners of Group F (which includes Germany, France, Portugal and Hungary) taking on a third-placed side from one of groups A, B or C. That last-16 encounter is scheduled for 28 June.