France head into the Euros this summer knowing they could be crowned World and European champions for the second time in the country's history. Back in 2000 France added the Euros to their World Cup crown two years previous and the team is dominating global football once again.
With the talents of Kylian Mbappe, Paul Pogba, Antoine Griezmann and N'Golo Kante in the side, it's no wonder France are considered one of the favourites for the Euros. Manager Didier Deschamps is equipped with a squad that competes across European club football, although this comes with its drawbacks. The number of French internationals competing deep into the Champions League and Europa League this season could mean the boss welcomes a fatigued squad to France's base in Clairefontaine.
France qualified for the tournament by winning eight of their 10 Group H games. They finished two points ahead of Turkey – who also automatically qualified – and averaged 2.5 goals per game. Worryingly, however, they lost to Turkey in Istanbul and scraped a draw in the reverse fixture in Paris. It was Turkey's own undoing in their defeat to Iceland in Reykjavik that gifted France top spot.
Deschamps plays a malleable 4-2-3-1 system that seeks to extract the best attacking assets from his squad. Presnel Kimpembe, Raphael Varane, Clement Lenglet and Kurt Zouma compete for the centre-back spots, while in midfield Kante and Pogba hold fort. This gives the forward four – spearheaded usually by either Ousmane Dembele or Olivier Giroud – the impetus to attack. Mbappe is deadly down the left, while Griezmann is often happy playing behind the main striker.
The big worry for France is burnout and a lack of imagination when tackling resolute opposition. They have run hot and cold since the 2018 victory and have a tendency to lapse in concentration. That was on show in 2016 when they lost the Euros final to Portugal in Paris despite dominating the game.
Historically France are one of the most successful nations at European tournaments. They have twice won the trophy – in 1984 and 2000 – and reached the semi-finals in 1996. The nation swiftly got over the pain of losing the 2016 final thanks to their exploits in Russia two years later.
Paris isn't a host venue for the Euros this summer and France will play their group games in Munich and Budapest. They have been drawn in Group F – considered the Group of Death as it also comprises Germany, Portugal and Hungary. Only twice in their previous eight appearances have we witnessed a France group Euro failure.
Starting XI?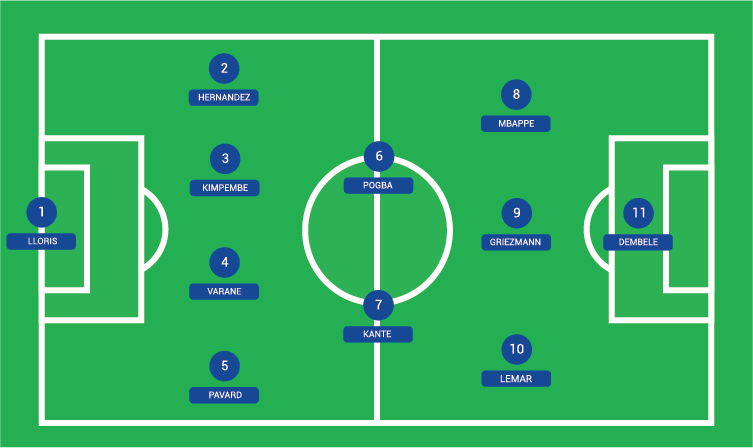 Tottenham Hotspur

Marseille

Lille

Real Madrid

Lyon

Chelsea

Barcelona

Paris Saint-Germain

Bayern Munich

Bayern Munich

Everton

Sevilla

Manchester United

Juventus

Bayern Munich

Atlético Madrid

Chelsea

Tottenham Hotspur

Chelsea

Borussia Mönchengladbach

Monaco

Barcelona

Bayern Munich

Paris Saint-Germain

Real Madrid

Barcelona